Safety Net – Keeping children safe online
Live CPD training webinar
Recommended for all teachers, frontline practitioners, foster care agencies, social care staff, early years and many other multi-agency safeguarding professionals to support continuing professional development.
IMPORTANT INFORMATION – This is a virtual 90-minute course and once you have booked you will then receive a confirmation email which will contain your unique joining link.
Aim:
Access expert training from Safety Net, a unique educational CPD designed to provide multi-agency safeguarding professionals with the tools and confidence to engage parents and then their children, in a concerted effort to encourage safe online practice in the home.
The training webinar aims to raise awareness of the unseen dangers and embeds the understanding needed to help young people stay safe when they are using the Internet, social media and playing online games.
Click below to watch a short video on what is Safety Net
Learning Outcomes:
By the end of the 90-minute eye opening CPD webinar session, frontline practitioners will have gained:
An increased awareness to the real and hidden danger's children face when using the Internet, social media, playing online games and following online influencers.
An understanding of perpetrators and the models used for online grooming, to include sexting, unintentional victims, CSE, gangs, fake news, radicalisation (PREVENT) and bullying.
Interventions – models used to keep children safe.
The understanding of the important role parents- carers must play if we are to help keep children safe online.
Resources to engage parents and children
The knowledge and confidence to deliver engaging internet safety sessions to all children, parents and staff.
As part of the CPD you will also receive award-winning Safety Net resources
(worth £15 rrp) ahead of the session to get you started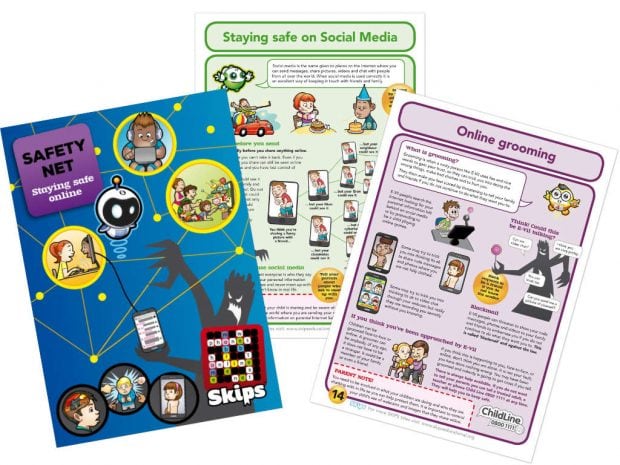 Book now – The next upcoming Live CPD training webinars are:
Tuesday 5th December 1 pm
Tuesday 12th December at 9 am
Wednesday 17th January at 9 am
Tuesday 23rd January at 10.30am
If you prefer to pay by invoice or enquire about further forthcoming sessions, please do not hesitate to contact us.
E-mail: info@skipseducational.org or phone: 0121 227 1941
Commitments and Cancellations
In order to continue to offer training and maintain the best value, we need to run our courses on a maximum occupancy basis.
A cancellation fee will be charged for the non-attendance of any individual following an online confirmed booking for this training session. This fee will be waived if a replacement attendee from the same setting takes up the place
Notice of cancellation: Less than 14 days £50 + VAT
Notice of cancellation: Less than 30 days £25 + VAT